Regular price

$39.00

Sale price

$39.00
Your nighttime skincare routine just got simplified -- the Sunset Restore Serum has all your PM-routine needs in a single bottle. With plant-based retinol alternative (Bakuchiol), this overnight serum is safe for all skin types and tones, as well as for those with sensitive skin. This blend of science-backed ingredients like Squalane and Tripeptide Complex and tradition-rooted ingredients like Amla and Saffron work together in perfect harmony for optimal overnight restoration and de-stressing.
efficacy
usage & storage
ingredients
more information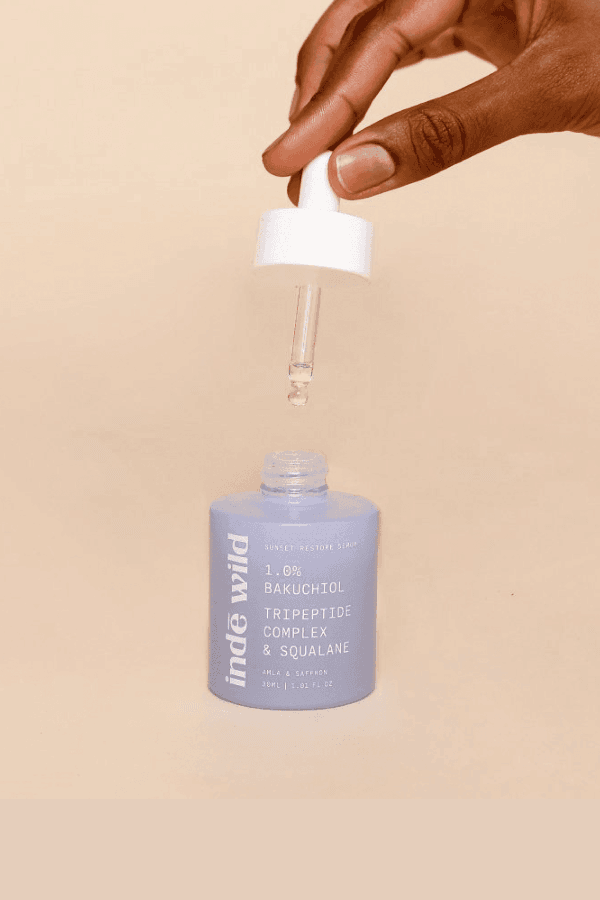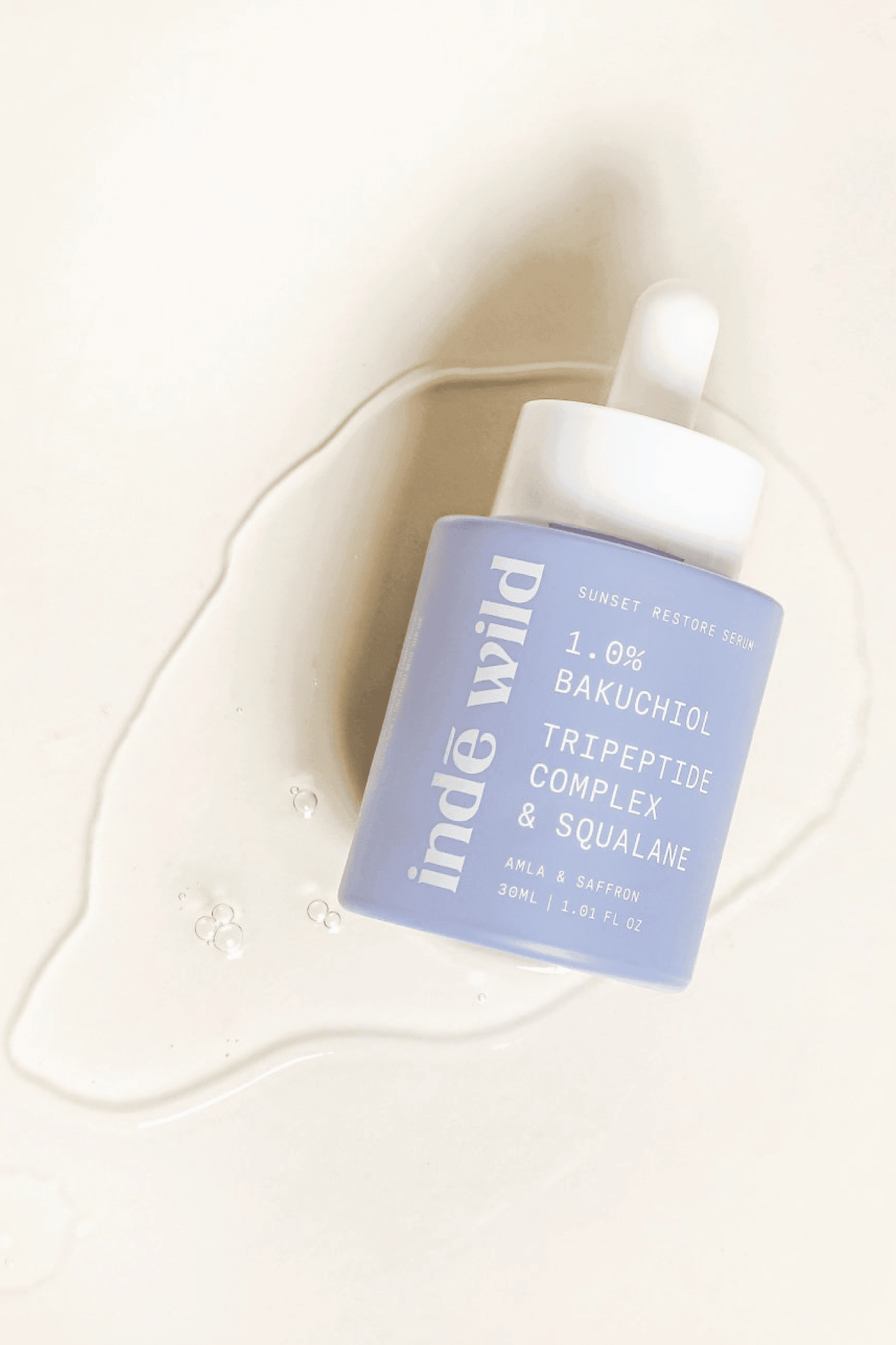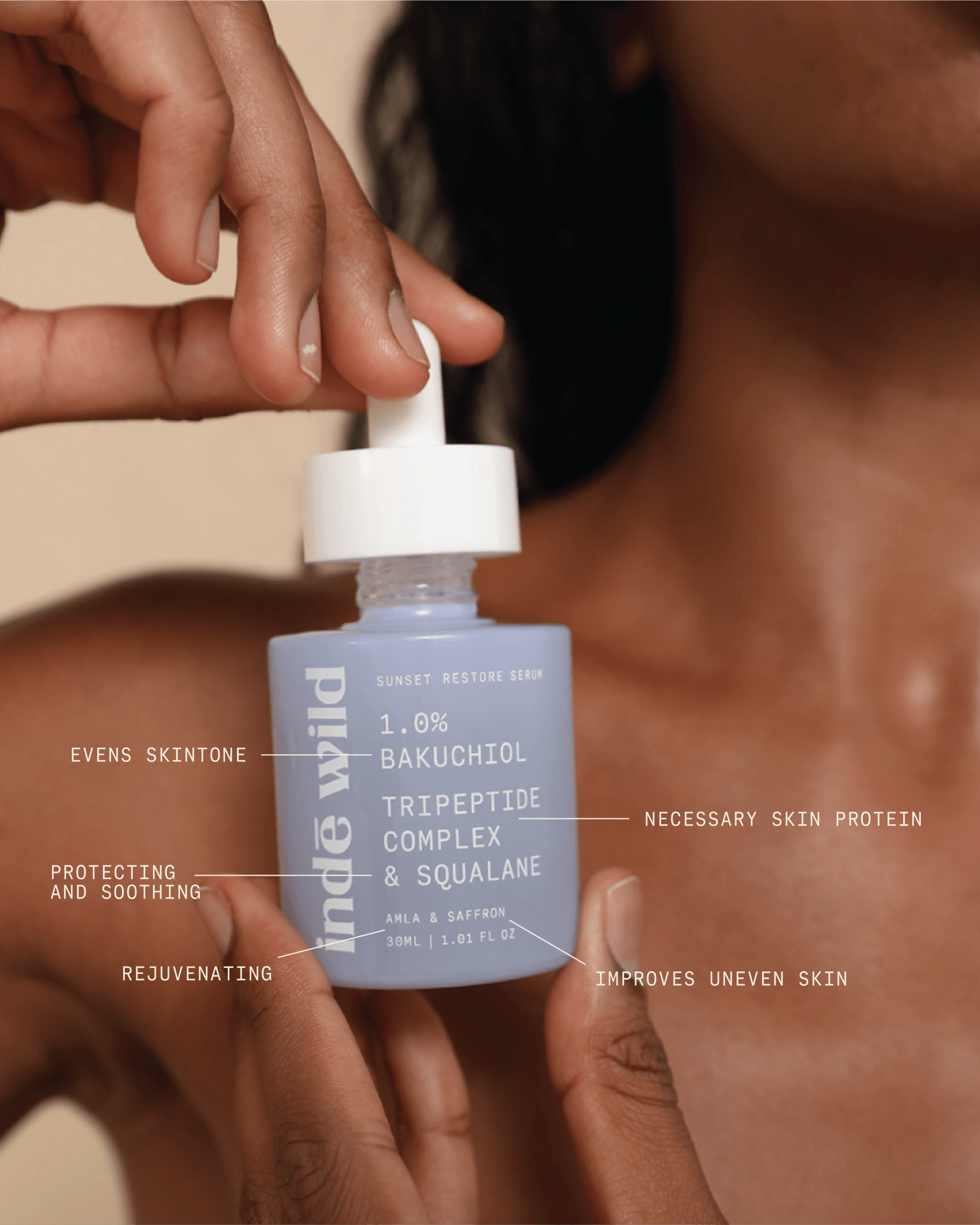 "Just finished my first bottle and can't wait for my restock. For someone who's been hesitant to start harsh chemicals like retinol, the PM serum is a great substitute. I definitely see an improvement in skin texture, love the velvet-like smooth consistency and it leaves my skin feeling hydrated the next morning. Love it!"

 Nadège
"I just got this serum and loving it! The smell is so nice and knowing I'm using Ayurvedic ingredients makes me feel good. I'm waking up with my skin feeling soft, smooth, refreshed. Now I'm excited to order the AM serum. Highly recommend indewild products and everything they stand for!"

Jodie
"Safe to say, the 1% bakuchiol serum is my favorite skincare product ever! I use it religiously every night on my face, neck and lips - I actually had to order multiple bottles in this round coz I cannot afford to spend a night without my serum."

Mansi G.

3.33% Squalane
Hydration, oil control, and age-defying – just a handful of this power ingredient's capabilities. Squalane, when applied topically as in the Sunset Restore Serum, boosts moisture, soothes and prevents irritation, leaving behind soft, supple skin.

1% Bakuchiol
An Ayurvedic alternative to retinol, Bakuchiol is especially safe for sensitive skin as well as pregnant or breastfeeding women. This natural ingredient is derived from the babchi plant, and specifically from its leaves and seeds. For generations, Bakuchiol has been used in ancient practices for its anti-inflammatory and antibacterial properties which heal and calm the skin. While soothing the skin, it also works to visibly reduce the appearance of pores and promote skin firmness.

1% Amla + Saffron
This power-duo is the perfect combination for restoration and rejuvenation of the skin. While Amla acts as a natural, Ayurvedic astringent for clearer skin, Saffron is known for fading dark spots for even, glowing skin.

Rosehip oil
Rich in antioxidants and fatty acids, this ingredient is commonly used in skincare products and rituals to aid in skin tissue and cell regeneration. It is also known for its calming properties which reduce dark spots, scars and the appearance of fine lines.
Caprylic/Capric Tryglyceride
Viewed as a natural alternative to common synthetic ingredients, Caprylic/ Capric Triglyceride has antioxidant properties that moisturize and restore the skin while also boosting a product's shelf life.
Phenoxyethanol
Though a synthetic preservative, Phenoxyethanol is often used in natural formulations in place of parabens to prevent microbial growth and for stability.
Ethylhexylglycerin
This preservative enhances the anti-microbial properties of other ingredients in a formulation.
Sorbitan Isostearate
Known as a mild cleansing agent in addition to an emulsifier, this ingredient works to stabilize and create balance within formulas containing water and oil.
a conscious beauty ecosystem made for you
Our team of dermatologists, experts and Ayurvedic practitioners understand unique and common skin concerns. Our products are especially formulated to target hyperpigmentation, acne scarring, sensitivities, and more.
skincare, uncomplicated
Just call our serums the jeans + T-shirt of your regime. We've simplified your skincare regime by packing our products with all-in-one intentional, high-impact, powerful ingredients.
accessibility
Skincare doesn't only apply to deep pockets, it's meant for everyone. We've sourced the finest of ingredients with optimal efficacy while keeping accessibility top of mind.
expert approved
Innovative Cosmetic Chemist
The AM and PM multipurpose serums contain tried and tested actives along with ancient Ayurvedic herbs that can fix many of your skincare needs.

Our AM serum is packed with powerful actives like Ascorbic Acid in the right proportions with Ferulic Acid and Vitamin E, which can help stimulate collagen to improve skin elasticity and fight free radicals, which helps prevent UV damage and skin aging. Turmeric and Ashwagandha are both soothing antioxidants and anti-inflammatory ingredients that and can help brighten skin while improving overall skin tone for a more radiant appearance.

Our PM serum is truly a game changer due to the powerful combination of Bakuchiol, that can prevent the appearance of fines and wrinkles, improve skin texture, and act as an antioxidant, while Amla and Saffron, can brighten your skin and restore a natural glow on your face.
3rd Generation Ayurvedic Practitioner
Turmeric is also known as Kanchani which means gold and has the ability to provide a gold hue to the skin. Suitable for all three doshas and possessing anti-bacterial, anti-fungal as well as anti-viral properties, it can help with removal of toxins on the skin. Ashwagandha, known to be Balaprada (provides strength), and Shophahara (reduces swelling) has significant antimicrobial and anti-oxidant action, protecting the skin from free radicals and pollution. As the skin gets exposed to environmental pollutants, free radicals and unhealthy microbes during the day time, it is important to find powerful agents that are constantly protecting the skin and conducting repair. Ashwagandha and turmeric combine to do exactly this job in the indē wild AM serum.
FAQs
Which skin types are indē wild products most suitable for?

Our products are carefully formulated to assist all skin types, tones, unique skin needs such as hyperpigmentation or acne scarring, and sensitivity level. Each is dermatologically designed and tested, and are loaded with Ayurvedic nutrients as well as science-backed ingredients that help reduce dark spots, brighten, heal and soothe blemishes, and much more - giving the skin that boost of supple, hydrated life it yearns for! Think of it as your skin's protein supply!
Is the 1.0% Bakuchiol Sunset Restore Serum safe to use whilst pregnant/nursing?

Not only did our team of dermatologists and experts have this very topic in mind while formulating, but our Founder, Diipa herself was pregnant during our testing and development phases. She used our products throughout her pregnancy, breastfeeding, and now postpartum. Having said that, and as everyone's skin type and sensitivities vary, we strongly recommend asking your dermatologist or medical professional prior to any usage. Assuming your doctor has given the green light, please don't forget to patch test on a small area (i.e. your arm) before full application. Avoiding the harsh effects that retinol may have on your skin, we opted for a natural alternative (Bakuchiol) instead, giving you the same results in a more gentle, vegan way. For more information about our ingredients, how-to-use videos, customer reviews, and much more, visit the PM Sunset Restore Serum product page.
Are indē wild ingredients non-comedogenic?

Yes. We work hand-in-hand with our labs and expert board to carefully source all of our ingredients to ensure they are safe for all skin types, calming and packed with antioxidants that help to prevent irritation. That said, we suggest patch testing any product (and any ingredient) you haven't tried before and consulting with your dermatologist for specific skin concerns and remedies.
How are the products packaged?

Our products are first packaged in a glass or other container/dropper made using recyclable glass, then packaged in to what we call 'secondary packaging' or the inner box, and finally with our indē wild shipper box.
More Information

Generic name: Serum

Net Quantity: 30 ml

Shelf Life: 24 months

Manufactured by:

Ador Multiproducts Limited A-4&5.Rural Industrial Estate,
Kattukuppam, Manapest Post,
Puducherry 607 402

Marketed By:

Inde Wild Private Limited Vikash Kunj, 1159, Vikas Puri,
New Delhi, West Delhi, Delhi, 110018

Country of origin: India